Pros and Cons of WhatsApp Business, Apple Business Chat and Messenger
Can't decide which chat app is the best choice for your business? Discover the pros and cons of WhatsApp Business, Apple's Business Chat and Facebook Messenger.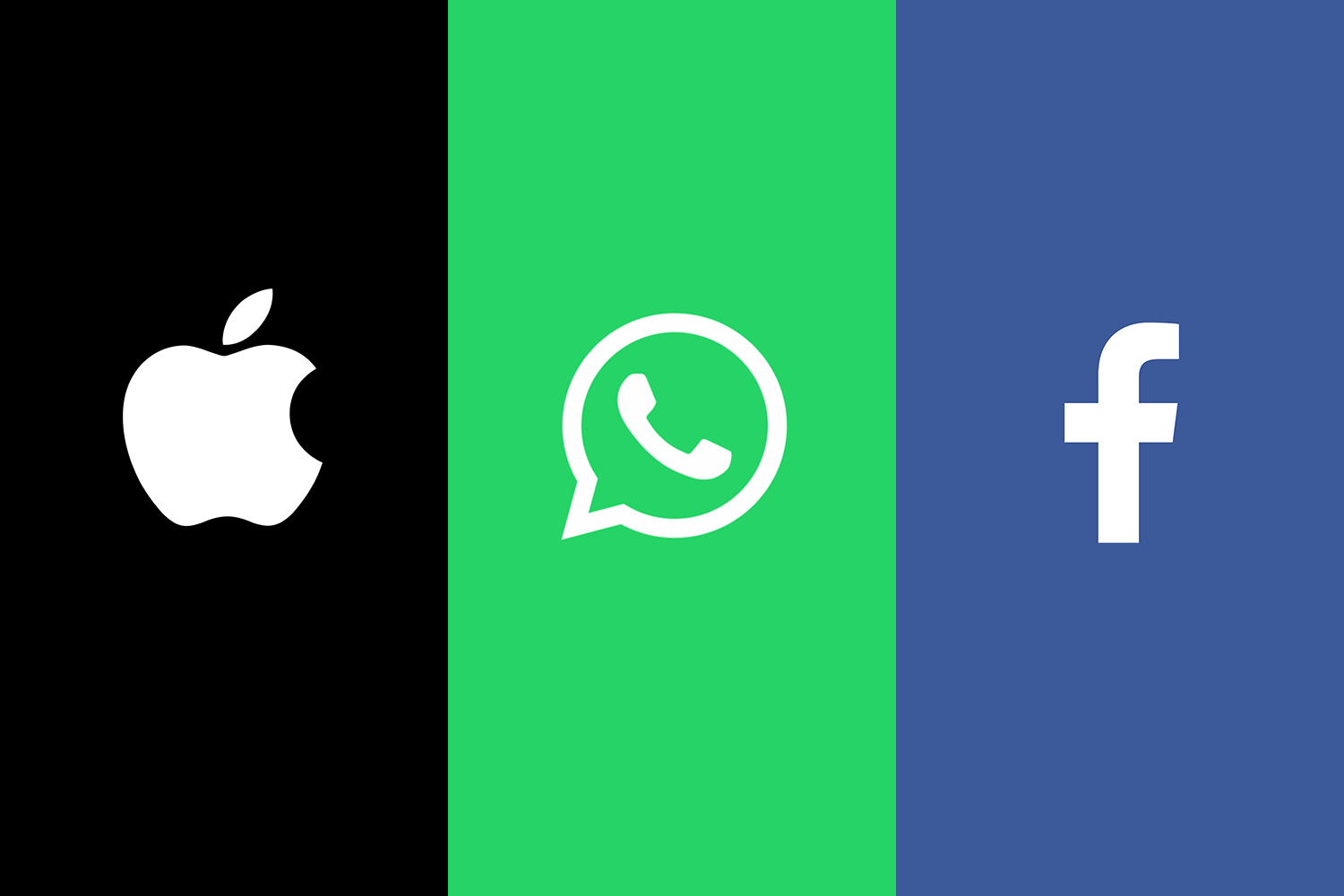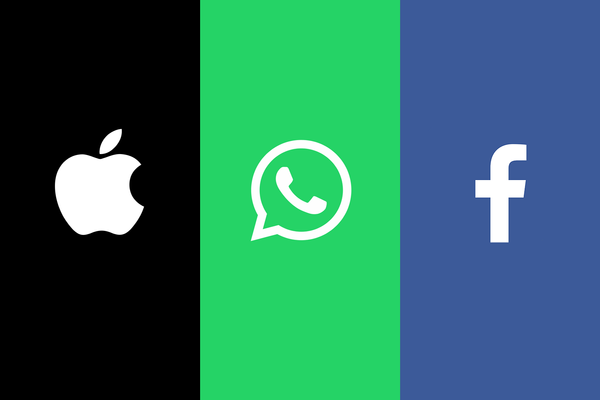 WhatsApp just launched WhatsApp Business, Apple is rolling out Business Chat and it's about time we take a closer look at their strengths and weaknesses. Of course, we can't do it without including Facebook Messenger, the most popular chat app amongst businesses at the moment.
Let's begin!
Apple Business Chat
Pros
Business Chat comes with a number of neat features. We already mentioned some in our previous article, but today we're going to take a closer look.
The most convenient one must be Business Chat Discovery. It enables users to search for a particular business via Safari, Search, Siri or Maps and then start a conversation with a click on the chat button that appears next to the search result.
No one other chat app features such a shortcut. The closest thing is the call button when you're using Google, but research has shown that millennials would rather text a business than call them. Business Chat makes that easier than ever.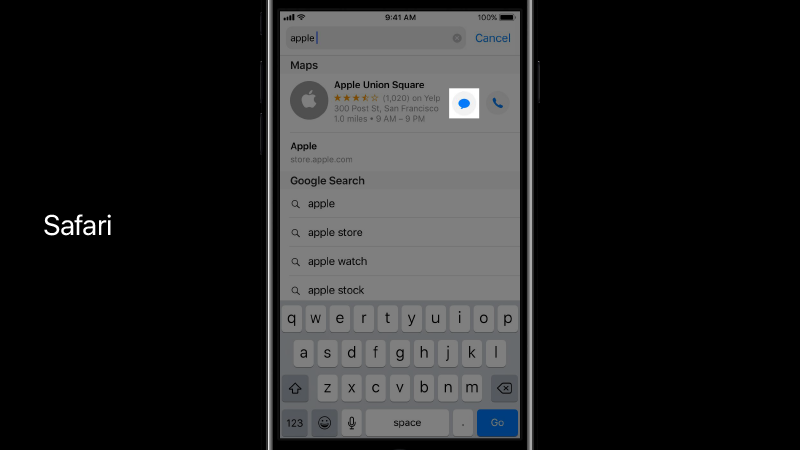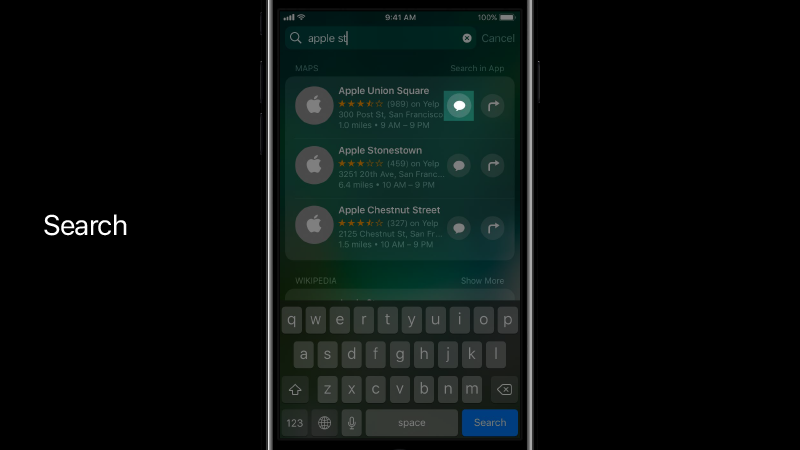 The next feature that stands out is the possibility to implement parts of your own app and customize Business Chat for your purposes.
Let's say the user is booking a plane ticket - you can also offer him to select his seat without leaving the chat box. That is possible by using iMessage App Framework that was released last year in iOS 10 and it makes Business Chat more versatile than most of it competitors.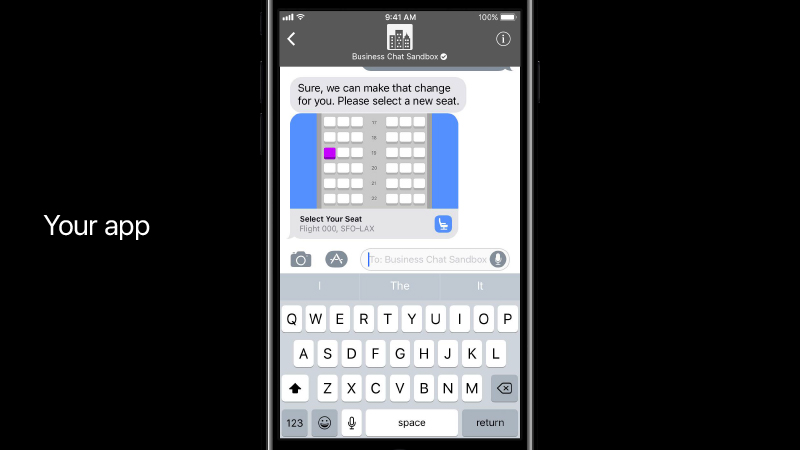 Another handy feature is called Apple Pay. Businesses can connect it to their payment system and it will allow users to pay inside the chat window. Nothing revolutionary, but it seems like a clean and simple solution, which is always appreciated.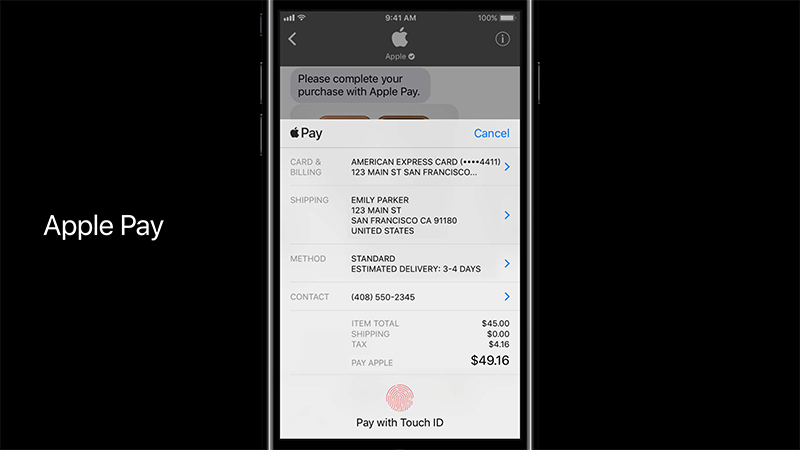 There is also Chat Intent. It permits businesses to create special links, which will tell customer support what exactly the user was looking at and thereby help them to be more efficient. A bit more technical feature which is very useful for bigger companies.
As Business chat is based on iMessage there shouldn't be any problems with attaching files, muting conversations and all the other stuff you'd expect from a chat app.
Cons
The biggest drawback we see is that you'll need to have your own customer service solution or use a third party service supported by Apple (like Salesforce or Zendesk) in order to use Business Chat. From what we've heard in Apple's presentation it won't be enough to only have iMessage, which can be very cumbersome.
We are also surprised that there is no emphasis on automated tasks or chat bots, especially when you consider that Apple came up with Siri. Theoretically, it's possible to create your own chat bot as Apple will provide Business Chat's API. However, it seems like it's not encouraged and there are no user-friendly solutions around just yet.
Last but not least, Business Chat will be available only to Apple users. Yes, Apple is a very strong brand, but the fact remains that this will limit the usefulness of the app. It simply won't be the only chat option for the vast majority of businesses, because no one wants to exclude all Android and other users.
WhatsApp Business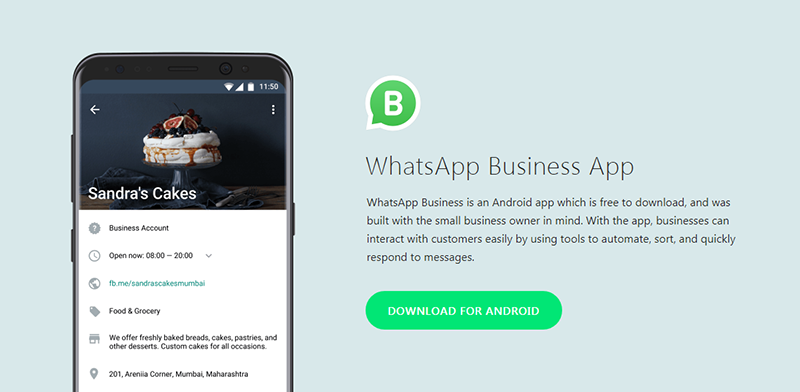 WhatsApp decided to create two different solutions for their business users. We are going to focus on WhatsApp Business, but there is also WhatsApp Enterprise that's currently in beta stage. It's aimed at big companies and it will provide them with WhatsApp's API, which allows for different kinds of customization. You can check how KLM and BookMyShow are testing customized WhatsApp features in this article.
Now let's take a look at the app that is already out there – WhatsApp Business.
Pros
WhatsApp Business was developed with smaller businesses in mind and consequently it comes with some fairly simple, but useful features.
It allows businesses to set up automated away messages, which means a lot to an owner that can't reply to enquires 24/7.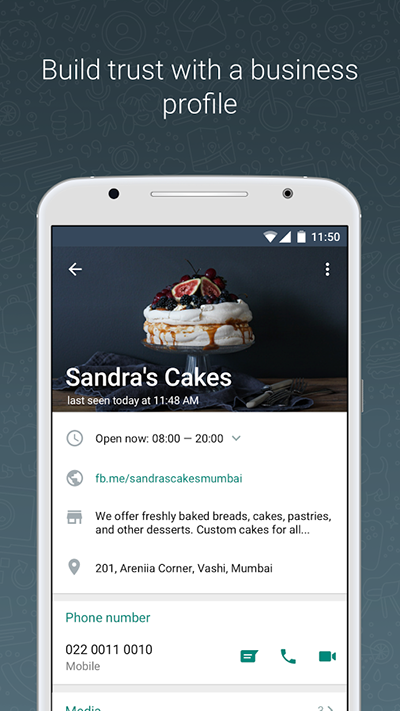 You can create quick reply codes that allow business owners to save time. Whenever you want a specific greeting or a "thank you" message, you can input a short code, which will transform into a preset text.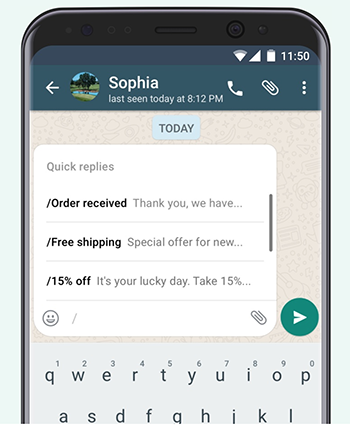 Whatsapp Business will enable its users to see simple messaging statistics and we think that's great. It means businesses will be able to track and tweak their WhatsApp campaigns and offers based on at least some data. This is definitely a step in the right direction for businesses that want to increase sales and see what offers work best.
You can also answer messages via WhatsApp Web, WhatsApp's computer app, in order to save time.
WhatsApp Business is very easy to set up, all you have to do is to download a free app and follow the instructions.
Cons
The biggest drawback so far is that you can only have one WhatsApp Business Account per device. That's a problem if there are more employees that need access to the account. It's a fundamental flaw and we are sure WhatsApp is going to fix it.
There is also no option for business payments yet. WhatsApp enabled peer-to-peer payments in India, so things are changing, but transferring money between friends and family is very different than paying for a service or a product.
Another big setback is that you cannot use WhatsApp Web on your PC without having your phone connected to the internet. So if your phone battery dies, WhatsApp Web becomes useless. This is pretty weird and we hope WhatsApp is going to solve this issue as soon as possible.
The features WhatsApp Business offers are not groundbreaking and you get the feeling there could be a bit more. However, we are sure this is just the beginning and that the app will evolve with time.
Facebook Messenger
Pros
Although Messenger doesn't have a specialized app for business, it has a lot to offer.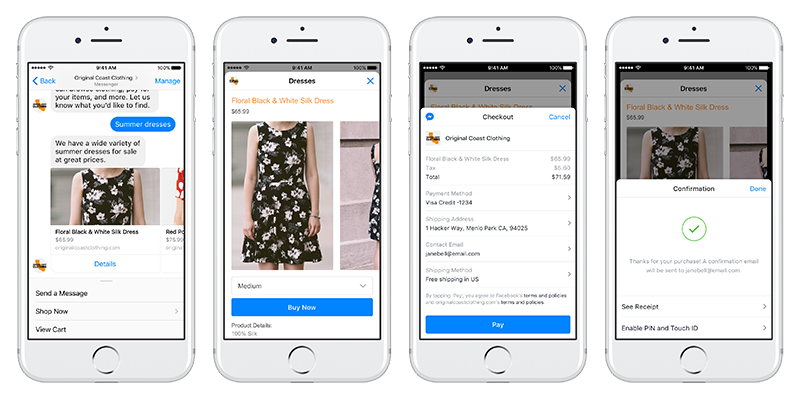 First of all, payments on the Messenger Platform can be implemented in-conversation with the Buy Button, or in the Messenger webview with tokenized payments. This feature is currently in beta stage in the US and will hopefully become available in more countries soon. It gives you the flexibility to handle user payments in the way that makes the most sense for you or your bot.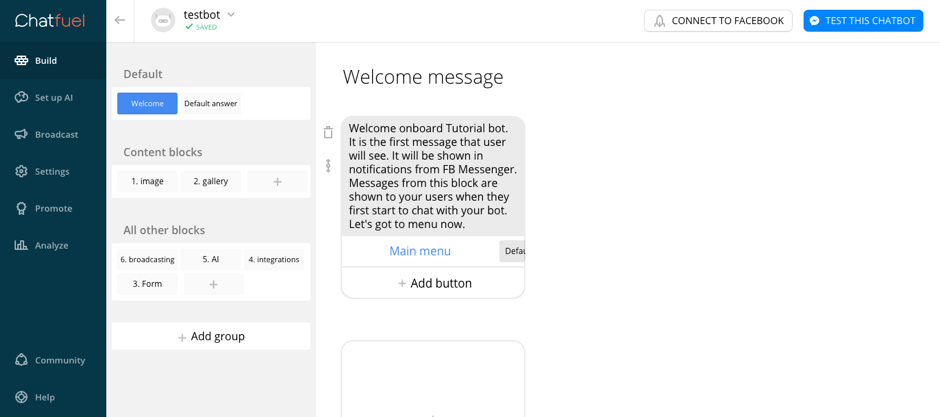 Why are we mentioning a bot? Because it's extremely easy to create one using software like Chatfuel. You can create a simple business bot for Messenger without any programming skills.
You can also run Facebook ads that take users directly to your Messenger chat window. Or you can even run ads that show up in users' inboxes. It might be annoying, but coupled with the right message it can be very effective.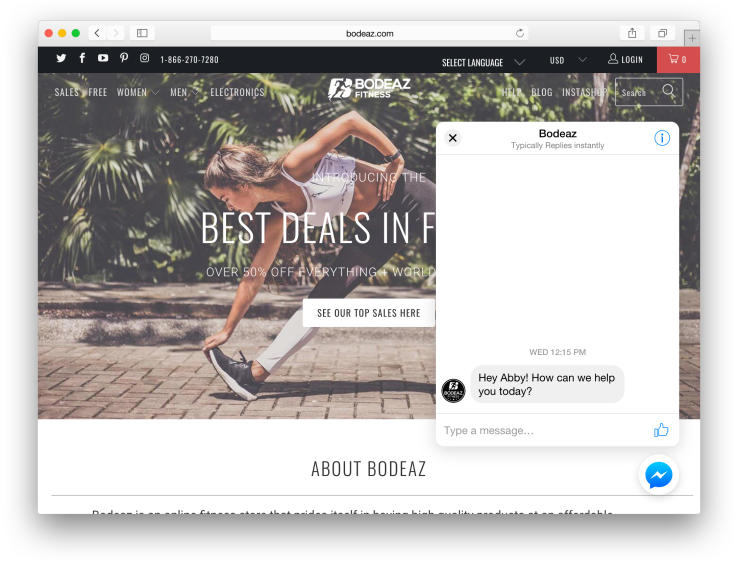 Facebook also just launched Customer Chat Plugin. It enables businesses to integrate Messenger into their website. Now customers are able to chat with you via Messenger when they are browsing your site. If you don't want to use Customer Chat Plugin you can simply add a Messenger button on your website and redirect users to their Messenger app if they want to chat.
Another interesting option for businesses is to send out newsletter via Messenger. It can be a good way to inform your customers or your employees about important news and updates. With services like Botletter it is possible to build the newsletter system without any programming skills. Techcrunch is among the companies that's sending out updates via Messenger every day.
Cons
The biggest drawback we can think of is that you can't have a Messenger account without also having a Facebook page for your business. Of course, most businesses have their own Facebook pages, but that's still a pretty big deal. Why? Because Facebook owns it and if they decide to delete all your conversations are gone.
There's also the fact that as a page you cannot reach out to your consumers via Messenger, you can only chat with those that started the conversation. Because of that, you can't really run any in-chat campaigns or send out personalized offers to your target audience.
That's our take on 3 of the hottest business chat apps at the moment. We are eager to see how these and similar apps will evolve and how they are going to impact business communication. If we missed anything important, let us know in the comments!