Here it is! The day when WhatsApp officially launched WhatsApp Business. For now, it's only available in the U.K., the U.S., Mexico, Italy and Indonesia, so if you're from there you're one lucky user. The rest of the world can expect the app in the upcoming weeks.
You can download WhatsApp Business for free on Google Play (there is no iOS version yet).
How does WhatsApp Business help you?
With over 1.3 billion users, many businesses are using WhatsApp to communicate with their customers. However, that wasn't the app's primary purpose. WhatsApp Business is therefore adding features that will help small businesses establish themselves, simplify some aspects of communicating and help them see which messages work and which don't.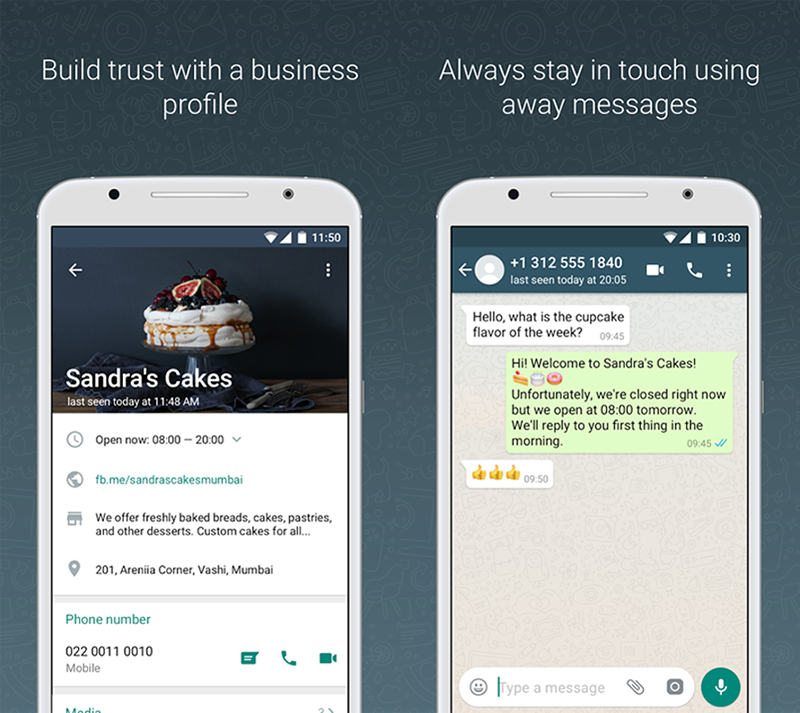 Here is the list of the novelties according to WhatsApp's blog:
• Business Profiles: Help customers with useful information such as a business description, email or store addresses, and website.
• Messaging Tools: Save time with smart messaging tools — quick replies that provide fast answers to frequently asked questions, greeting messages that introduce customers to your business, and away messages that let them know you're busy.
• Messaging Statistics: Review simple metrics like the number of messages read to see what's working.
• WhatsApp Web: Send and receive messages with WhatsApp Business on your desktop.
• Account Type: People will know that they're talking to a business because you will be listed as a Business Account. Over time, some businesses will have Confirmed Accounts once it's been confirmed that the account phone number matches the business phone number.
WhatsApp Business will allow you to contact people who provided their phone number and agreed to receive your messages. However, just as with WhatsApp, customers will be able to block your number and report your messages as spam, if you would abuse the messaging app.
What to expect next?
There is no exact date when we can expect a worldwide launch of WhatsApp Business, but it will happen in the following weeks.
We also don't know exactly when to expect an iOS version of the app, but WhatsApp said it does plan to support other platforms than Android in the future.
We can also expect an enterprise version of the business app, that will be aimed at large companies with a global customer base (airlines, e-commerce sites, banks etc.) WhatsApp already confirmed this app won't be free. There's no timeline for it yet and we predict, they'll talk about it more once WhatsApp Business is up and running.
So no definite dates for now, but we can see WhatsApp is evolving and adapting. We are eagerly awaiting WhatsApp Business in our region and can't wait to try it out and share more tips with you.
If you have any specific questions about the novelties, let us know in the comments and we'll do our best to answer you.